Breaking: Gang Member Dies In Officer Involved Shooting In West Whittier
Randy Economy (Los Cerritos News) | July 19, 2013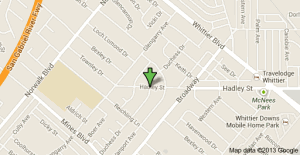 A Pico Rivera Sheriff's deputy and a sergeant were involved in a shooting on Friday morning in Unincorporated West Whittier that resulted in the death of a known gang member, law enforcement officials have confirmed.
Deputy Guillermina Saldana of the Los Angeles County Sheriff's Department told members of the media that a Pico Rivera Sheriff's deputy and a sergeant were patrolling in the 6800 block of Duchess Drive in the county area of Whittier when they stopped to talk with two known gang members who belonged to a local street gang.
"As they exited their car, one of the individuals ran towards the backyard of a house. The sergeant followed the suspect into the backyard where he saw the suspect pointing a handgun in his direction and a deputy-involved shooting occurred. The suspect sustained two gunshot wounds and was pronounced dead at the scene by paramedics," said Saldana.
The suspect's loaded handgun was recovered at the scene, and the sergeant did not sustain any injuries. The second individual was questioned and released.
Source article: http://www.loscerritosnews.net/2013/07/19/breaking-gang-member-dies-in-officer-involved-shooting-in-west-whittier/