Fatal Anaheim police shooting is 2nd in two days
KABC | July 23, 2012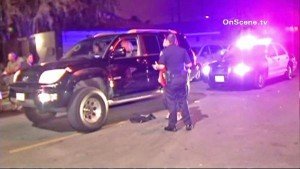 ANAHEIM, Calif. – A fatal officer-involved shooting in Anaheim Sunday was the second fatal shooting to happen in the city over the last two days.
Sunday's shooting happened at 11:20 p.m. after officers shot and killed a known gang member after a stolen car pursuit. The suspect took off on-foot after the pursuit. According to one officer, the suspect at one point turned and fired a gun during the foot chase. A hand gun was recovered at the scene.
Another male suspect was taken into custody and police are still searching for a female suspect who was also inside the vehicle.
Read more at: http://abclocal.go.com/kabc/story?section=news/local/orange_county&id=8745596