New City Attorney to study proposed Echo Park area gang injunction
The Eastsider LA | July 23, 2013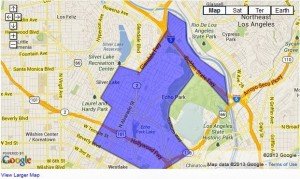 Newly elected City Attorney Mike Feuer said today he will be taking a close look at an Echo Park area gang injunction that has been proposed by his predecessor to limit the activity of six rival gangs in the area.
The injunction, which would apply to an approximately four-square mile area that includes Echo Park, Elysian Valley and portions of Silver Lake, was proposed in mid June by former City Attorney Carmen Trutanich during his final days in office. The injunction, if approved, would prohibit about 300 gang members from associating with each other in public, possessing firearms and narcotics as well as intimidating or harassing residents within a nearly four-square-mile "safety zone." An August 21 court hearing has been scheduled for the injunction.
The gang injunction had generated some opposition by residents who have raised the issue at recent gatherings. (Click here for a copy of the proposed injunction.)
Feuer, who spoke at Tuesday night's meeting of the Greater Echo Park Elysian Neighborhood Council, said that gang injunctions have been controversial but have also served as one of many important tools for combatting gang violence. When asked if he would support the proposed Echo Park gang injunction, Feuer, a former City Councilman and state legislator, said he had not yet had time to analyze the specifics of the gang injunction that he "inherited" from Trutanich.
Read more at: http://www.theeastsiderla.com/2013/07/new-city-attorney-to-study-proposed-echo-park-area-gang-injunction/