Tackling Gang Slayings that Plagued Santa Monica in the 1990s
Jason Islas (Surf Santa Monica) | July 24, 2012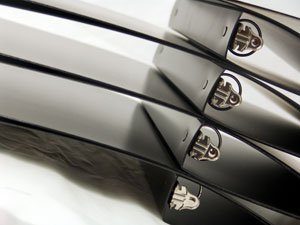 Santa Monica Police Detective Larry Nicols runs his finger down a yellowed page, scanning a list of murders that took place in Santa Monica, organized by year.
In 1995, Nicols counts 10 murders. Of those, he says, three were gang-related, part of a series of  20 gang-related murders that took place in the beachside city from 1990 to1999.
"I probably have a half dozen of these," said Nicols, gesturing at the black binders in front of him. Each one is a gang-related murder that, for one reason or another, remains unsolved.
There are reasons why an investigation into a gang-related shooting could reach a dead-end, Nicols said.
Not least of all, hostility toward law enforcement.
"More times than not, the surviving witnesses are reluctant to give statements to the police," said Nicols.
That was the case in the 1995 murder of Salvador Palomino. Palomino was gunned down while hanging out with two friends in front of a house on 19th Street in Santa Monica's Pico Neighborhood.
"The only witnesses were the ones involved" in the shooting, said Nicols.
Based on the police report, it is clear that neither of Palomino's friends was eager to give the police much information. They identified the suspects as male Hispanics, aged 18 to 24 in a burgundy or red Toyota or Nissan.
But when officers asked them if they recognized anyone in the car, they just smiled and said, "No."
Sometimes, there are no witnesses at all.
Read more at: http://www.surfsantamonica.com/ssm_site/the_lookout/news/News-2012/July-2012/07_24_2012_Tackling_Gang_Slayings_that_Plagued_%20Santa_%20Monica_in_%20the_1990s.html