Drug gang members plead guilty to avoid death penalty
Kelly Wheeler (San Diego 6) | July 25, 2014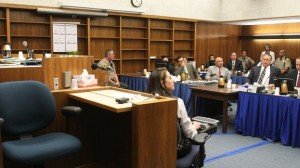 SAN DIEGO (CNS) – Two leaders of the violent Mexican drug trafficking gang "Los Palillos," already convicted of multiple murders and kidnappings in San Diego County, Friday pleaded guilty to unresolved counts in exchange for avoiding the death penalty.
Jorge Rojas Lopez, 35, and Juan Estrada Gonzalez, 34, will be sentenced to multiple terms of life in prison without parole at a hearing Oct. 15.
A third Los Palillos gang member, 43-year-old Jorge Salvador Moreno, also pleaded guilty today to multiple murder counts in exchange for avoiding the death penalty. His sentencing was set for Aug. 25.
Edgar Frausto Lopez, 40, is still awaiting trial in which he faces the death penalty if convicted.
A fourth defendant, 41-year-old Jesus Gonzalez, also faces trial but is not facing the death penalty because he was extradited from Mexico to the United States.
Rojas and Estrada Gonzalez already were serving life-without-parole sentences when they were convicted in January. Rojas was convicted of four murders, Estrada Gonzalez was found guilty of six killings.
In March, jurors deadlocked on whether to recommend death or life in prison without parole and prosecutors said they would retry the penalty phase of trial.
Read more at: http://www.sandiego6.com/news/local/Drug-gang-members-plead-guilty-to-avoid-death-penalty-268676982.html
Photo credit: John Gibbins / UT San Diego