Video shows brazen 'smash-and-grab' jewelry store robbery
Richard Winton (Los Angeles Times) | July 28, 2011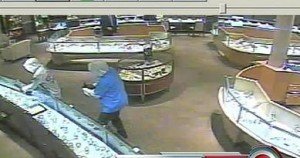 Los Angeles police are investigating a brazen downtown robbery, in which three men wearing hooded sweatshirts rushed into a jewelry store, pepper sprayed the owner and smashed the display cases, taking more than $7,000 in costume jewelry.
Police suspect it is latest in a series of robberies tied to South L.A. gangs targeting jewelery stores in Los Angeles and Orange counties.
"We've been seeing these smash-and-grabs occurring for several weeks," said Lt. Paul Vernon of the Los Angeles Police Department.
The robbery occurred Friday afternoon at the 21st Century Jewelry store on Broadway.
Investigators said they saw a similar pattern of robberies last summer, and the rising price of gold may be a prime motivator for the crimes.
The three fled in a white, four-door Toyota Camry with paper plates.
Read more at: http://latimesblogs.latimes.com/lanow/2011/07/suspects-sought-in-smash-and-grab-jewelry-store-robbery.html