Sacramento group backs away from Ceasefire anti-gang program
Kim Minugh (Sacramento Bee) | July 28, 2013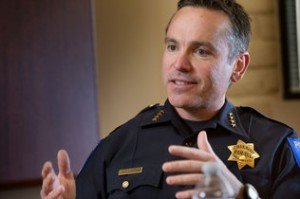 An organization that played a key role in starting an anti-gang effort in Sacramento has suspended its direct involvement with the city, alleging that the Ceasefire program is floundering from a lack of commitment from city and police leaders.
Leaders from Sacramento Area Congregations Together say they will continue to do community outreach and training to combat gang violence. But they will no longer report their services as required by the California Gang Reduction, Intervention and Prevention (CalGRIP) grant that funds the local Ceasefire program.
ACT's move is the result of "serious concerns about the current implementation of Ceasefire and the lack of partnership and decision-making which was the previous norm," the Rev. Charles Warner wrote in a letter to the city last week.
"In the last six months, Ceasefire's implementation in the city has gone through a major transition and the city's commitment to following best practice and an evidence-based approach is uncertain," Warner wrote.
City officials countered that they remain committed to Ceasefire and that the program can continue without ACT's involvement.
"We have a vast number of religious groups throughout the community with which we've been working," city spokeswoman Linda Tucker said in a statement. "In fact, we are in the process of reaching out to more faith-based organizations to ask them to help us reach gang members and encourage them to consider an alternative lifestyle."
Police Chief Sam Somers Jr. said his department is complying with the terms of the CalGRIP grant, but that he does not believe Ceasefire is the best answer to the city's gang problems. Instead, he is focusing on a new gang-intervention program he calls "Cops and Clergy."
"I don't think that was a good model for our community," Somers said of Ceasefire. "With that, we developed some great relationships (with clergy) and from those relationships we're able to build … something we think works better for our community."
Officially launched in Sacramento in late 2010 – with significant involvement from ACT – Ceasefire has been focused primarily along the Mack Road corridor, where two rival gangs have warred.
It is based on a model created in Boston and replicated in cities across the country, including Chicago and Los Angeles. Supporters describe it as an evidence-based approach that has resulted in double-digit percentage declines in gang violence in many cities.
Read more at: http://www.sacbee.com/2013/07/28/5602432/sacramento-group-backs-away-from.html
Photo credit: Randall Benton / Sacramento Bee