Gang recruiting flourishes with border crisis
Deirdre Reilly (Los Angeles Times) | July 28, 2014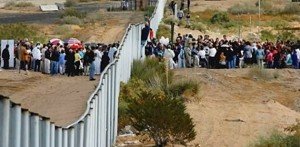 Just one of the several real dangers that rides alongside the flood of illegal immigrant children over the U.S. is now surfacing: members of the cruel and vicious MS-13 gang are taking advantage of the stressed, over-worked, multi-tasking border patrol agents and are illegally crossing the border — and are recruiting pre-teen members from the ranks of the Central American children fleeing to the U.S. If successful with their recruitment (and they have never not been successful – who says no to them?) this gang's numbers will swell both here and in their home countries, and drug cartels and gang violence will flourish here in the U.S., as well as become even more pervasive in Central America.
MS-13 is an international gang that started in the 1980's and is tied to drug trafficking, murder for hire, and many other illegal activities. Initially formed in California by Salvadoran illegals, MS-13 has, over time, spread like a deadly virus through Central America. This gang is notorious for their merciless revenge and deadly retributions. The notorious cruelty of MS-13 earned them a path to be recruited by the Sinaloa Cartel battling against the Los Zetas in an ongoing drug war south of the United States border.
We don't like to think about these facts associated with desperate children crossing our borders, but they are real – violence and illness are real threats embedded into this sensitive issue. Shawn Moran, of the National Border Patrol Council, said the gang leaders are recruiting pre-teens from the 57,000 unaccompanied youths and others who have come to the U.S. from Central America in the past year.
Read more at: http://lapostexaminer.com/gang-recruiting-flourishes-border-crisis/2014/07/28#sthash.xaD0Ay9k.dpuf