Drive-by shooting in Watts leaves 4 injured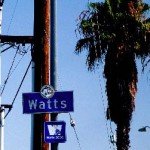 WATTS, Calif. (KABC) — Four people are wounded after a drive-by shooting in Watts on Sunday.
Police said the gunmen opened fire in the 9500 block of Holmes Avenue just after 10 p.m., injuring two men and two women.
Authorities said one of the men is 45 years old, and the other man is 23. The two female victims are 19. All four are expected to survive.
Police said they're looking for three men seen in a green Honda or Nissan.
It is unknown if the shooting was gang related. Anyone with information is urged to call the LAPD Southeast Station at (213) 972-7828.
Original article: http://abclocal.go.com/kabc/story?section=news/local/los_angeles&id=7587555
Image source: laist.com