3-year-old girl shot in apparent gang-related incident in Downey
Kate Linthicum (Los Angeles Times) | August 3, 2012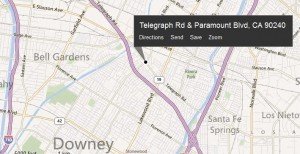 A 3-year-old girl was shot in the back Friday in an apparent gang-related shooting in Downey, officials said.
A man who may be the girl's father was also shot, according to Los Angeles County sheriff's Sgt. Dianna Woodward.
The incident happened about 4:30 p.m. at the intersection of Telegraph Road and Paramount Boulevard, Woodward said.
A group of people — including women and at least one child — were walking when they were approached by a group of three to five men.
Words were exchanged, and at least one of the men fired shots at the other group, Woodward said.
A man between the ages of 20 and 25 was shot. As the little girl ran to him, she was shot in the back.
The condition of the victims was unknown early Friday evening.
According to Woodward, one suspect has been arrested. She said the shooting is believed to be gang-related.
Source article: http://latimesblogs.latimes.com/lanow/2012/08/downey-shooting-toddler.html