Fugitive biker gang member arrested in Colorado
Associated Press | August 4, 2011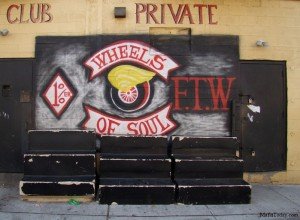 AURORA, Colo.—U.S. Marshals have arrested a fugitive motorcycle gang member who's accused of plotting to kill rivals in Denver and in Illinois.
Marshall "Big Bo" Fry, purportedly a member of the Wheels of Soul gang, was taken into custody Tuesday in the Denver suburb of Aurora. He was the last to be arrested among 18 members who were indicted in June.
Fry was charged with racketeering, attempt to commit murder in aid of racketeering and conspiracy to commit murder in aid of racketeering. He was accused of firing at rival gang members in Denver last year and planning to kill members of another gang this year in East St. Louis, Ill., the Denver Post reported (http://bit.ly/qyJhwC ).
It wasn't immediately known if he had an attorney.
Authorities say Wheels of Soul amassed power by selling crack cocaine and intimidating rival gangs and clubs across the country. It has a presence in Philadelphia, Chicago, Indianapolis and Denver.
Read more at: http://www.chicagotribune.com/news/chi-ap-co-fugitivebikerarre,0,177351.story