Ex-gang member has murder rap tossed, released from jail
By Lia Eustachewich | New York POst
August 5, 2015 | 2:00am
The murder conviction of a 25-year-old Brooklyn man who spent nearly eight years in prison was tossed out Tuesday because prosecutors under former DA Charles Hynes bungled parts of his case.
Joel Fowler, a Crips gang member at the time, was found guilty of gunning down rival Bloods member Duane "Bundy" Smith, 24, execution-style in Flatbush in 2007.
Fowler, who was 18 at the time, was sentenced to 25 years to life.
But a probe by current Brooklyn DA Ken Thompson's Conviction Review Unit found issues with Fowler's case, including with the sole witness to the shooting, who later recanted her testimony.
"It is apparent now, and should've been apparent then, that the identifying witness' statements recounting the incident had fatal flaws," Mark Hale, who heads the review unit, told Brooklyn Supreme Court Justice Matthew D'Emic.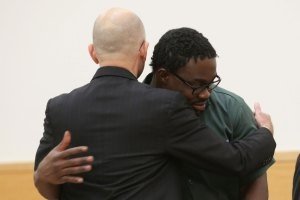 Four other witnesses to the shooting were never called to testify at the trial, said Hale.
"All of them would've looked across the courtroom, looked at Mr. Fowler and said, 'No, that's not the guy,'?" he said.
Fowler's conviction is the 14th to be overturned by the current DA's Office.
"[I'm] leaving the past in the past and going forward with my future," said Fowler, who exchanged a handshake with Hale after the brief hearing.