Judge denies bail to ex-Mexican official accused of giving confidential information to cartel
Associated Press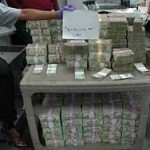 SAN DIEGO (AP) — A U.S. judge has denied bail for a Mexican official accused of sharing confidential U.S. law enforcement information with a Tijuana drug gang.
Jesus Quinonez Marquez pleaded not guilty in San Diego to federal conspiracy and racketeering. He was ordered to be held Tuesday without bail until his trial.
The international liaison in the Baja California attorney general's office and 42 others were charged last month with conspiracy to commit offenses including murder, kidnapping, drug smuggling and money laundering.
Investigators say they based their case on wiretapped conversations of Quinonez's cell phone.
His attorney, Patrick Hall, says authorities bungled their translation.
AP's earlier story is at: http://www.chicagotribune.com/news/nationworld/sns-ap-us-san-diego-border-violence,0,4148828.story
Image: DEA