Teenager slain, woman wounded in apparent gang-related shooting
Robert J. Lopez (Los Angeles Times) | August 11, 2011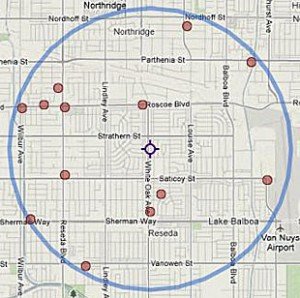 A 15-year-old boy was slain and a woman in her 20s was injured in Northridge on Thursday night when their vehicle was riddled with bullets, police said.
At least one attacker walked up to the vehicle in the 7900 block of White Oak Avenue about 7:20 p.m. and opened fire, the Los Angeles Police Department said.
The shooting appeared to be gang related, the LAPD said.
Read more at: http://latimesblogs.latimes.com/lanow/2011/08/northridge-homicide.html
Image credit: Homicide Report