Gangs claim another family member: 'I lost my Daddy to the same streets'
Nicole Santa Cruz (Los Angeles Times) | August 12, 2014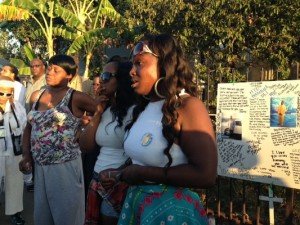 Timothy White Jr. had just said goodbye to his wife, and he told her he'd be right back.
He drove a short distance and stepped out of his car shortly before 9:45 p.m. on July 28. He was on his way to wish a friend a happy birthday, and was about five houses away from the gathering when two men approached him in the 900 block of West 79th Street in Vermont Vista.
One man said, "Hey man, what's up?" Then shots rang out, police said. White was taken to a hospital, where he died within the hour. He was 32.
White, who had a past affiliation with the 74th Street Hoover Criminals, is the latest casualty of gang violence in his family, relatives said. His father, Timothy Ervin White, was shot and ki*led at the age of 35 on June 8, 1999. He died about a mile away from where his son would be fatally wounded. A 23-year-old cousin had been ki*led eight years earlier.
White, who had spent some time in prison over the years on weapons and drug charges, had been applying for jobs. Released in November, he was also making up for lost time with his three boys — ages 15, 10 and 6 — by taking them to parks, the aquarium and the beach. White and his wife were expecting their first girl in February. The couple planned to move to San Bernardino County.
"At this point in his life, he had too much to live for," said his cousin Tanasa Rogers.
Read more at: http://homicide.latimes.com/post/i-lost-my-daddy-same-streets-timmys-all-i-had-man/
Photo credit: Nicole Santa Cruz, Los Angeles Times