Suspect sought in fatal shooting of man in Norwalk
KABC | August 13, 2012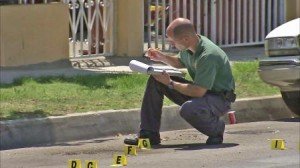 NORWALK, Calif. — The hunt is on for the person who gunned down a man in Norwalk.
The shooting happened in the 14,000 block of Dinard Avenue early Sunday morning. Investigators say the suspects are gang members, but the victim was not. The victim was pronounced dead at a local hospital.
This is the second homicide in recent days in the area. Anyone with information on this case should call the L.A. County Sheriff's Homicide Department at (323) 890-5500.
Source article: http://abclocal.go.com/kabc/story?section=news/local/los_angeles&id=8771649