Teens Accused of Stabbing Death Charged with Being in Local Gang
KPSP Local 2 News Services | August 16, 2010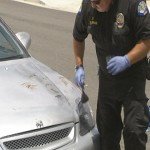 Six of eight teenagers accused in the stabbing death of a man outside a party in Desert Hot Springs were charged Monday with being members of a local gang.
Samuel Manuel Vallejo, 17, Bryan Gonzalez, 16, Ruben Alexander Chavez, 14, Steven Ray Arellano, who just turned 14, Omar Hernandez, 16, David Larios, 17, and brothers Jonathan Romero, 17, and Angel David Romero, 15, are being prosecuted in adult court on murder and other charges.
Gonzalez, Chavez, Arellano, Hernandez, and the Romero brothers are accused of being active participants in the West Drive Locos criminal street gang, according to court papers.
All of the boys are charged with a sentence-enhancing allegation of committing a felony for the benefit of a street gang.
The boys, who pleaded not guilty to the additional charges, originally were due in court Monday for a preliminary hearing. But defense attorneys asked for a delay of the proceeding — which will determine if there is enough evidence to proceed with the case — because they had just received hundreds of pages of police reports from the prosecution.
Article continues at: http://www.kpsplocal2.com/mostpopular/story/stabbing-trial-evidence-preliminary-hearing/XpABt0ttJ0KgvznjKD7i1A.cspx
Image source: KPSP Local 2 News