60 Arrested in El Cajon Weapon, Drug Ring
Copyright Associated Press / NBC Los Angeles | August 18, 2011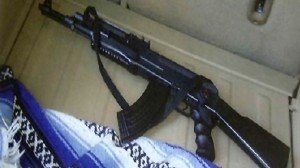 Federal officials said Thursday they've taken down a drug and weapons trafficking ring involving members of a U.S. Iraqi community and a major Mexican drug cartel that was caught selling large amounts of drugs, guns and grenades.
El Cajon police said they've arrested more than 60 people in the takedown of the ring, whose members are suspected of being affiliated with the Chaldean Organized Crime Syndicate based in Detroit.
Smugglers were shipping drugs from El Cajon to Iraqis in Detroit, authorities said.
El Cajon and federal police say they have seized 18 pounds of methamphetamine, narcotics, cocaine and other drugs; more than 3,500 pounds of marijuana; $630,000 in cash; four IEDs; and more than 30 guns, including assault rifles.
In April, a Drug Enforcement Agency undercover agent was shown a hand grenade by an immigrant and was told additional grenades were available from a Mexican military source.
Read more at: http://www.nbclosangeles.com/news/local/Mexican-Iraqi-Drug-Ring-Busted-in-El-Cajon-128030348.html
Photo credit: DEA