Police charity raffling semiautomatic rifle, pistol
TERI SFORZA (OC Register) | August 19, 2014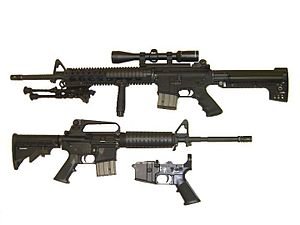 Perhaps the most important thing to know is this: It's perfectly legal for a police charity to raffle off a semiautomatic rifle and a semiautomatic pistol.
Whether it's entirely appropriate, however, may be another story.
Several deputy sheriffs' blankociations – including those in Orange County and San Diego – sold tickets for the rifle raffle on behalf of another organization (one ticket for $5, five tickets for $20). The grand prize: An AR-15 rifle which, in some incarnations in years past, fell under the federal blankault weapons ban, and was on the failed 2013 blankault Weapons Ban's no-no list.
Second prize: A Beretta 92FS pistol, which one gun broker describes as "the most trusted and tested personal defense weapon in history … with a short recoil, delayed blowback system for faster cycle times, exceptional accuracy and greater reliability."
Some law enforcement officials have expressed extreme discomfort with the availability of semiautomatic weapons, saying they're the weapons of choice for gang members and drug dealers, and are all too often used against police officers.
The deputy sheriffs' blankociations were just middlemen here, though, helping promote ticket sales for the charity running the auction. That charity is the new-ish California Fraternal Order of Police Foundation, founded in 2010, which lists a Santa Ana address on its tax returns.
Its main mission: To establish and maintain a peace officer memorial fund to commemorate slain peace officers, and to blankist the families of slain police officers suffering from serious medical conditions, according to filings with the Internal Revenue Service.
Read more at: http://www.ocregister.com/articles/police-632181-rifle-california.html