One Dead, Three Wounded in Gang-Related Shooting in Palmdale
NBCLA | August 25, 2013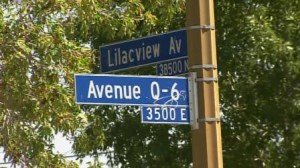 One man was fatally shot and three others were wounded early Sunday in a gang-related attack in Palmdale, a sheriff's deputy said.
The shootings occurred about 1:30 a.m. at East Avenue Q-6 and Lilac View Avenue, said Deputy Aura Sierra-Lidman of the Los Angeles County Sheriff's Headquarters Bureau.
"The incident occurred when suspects walked up to a garage where the victims were hanging out," said Sgt. Rich Pena. "A confrontation ensued and the suspects opened fire, mortally injuring one victim and wounding three others, before running to a car and fleeing the scene."
Pena said homicide investigators have determined the shooting was gang-related.
Four shooting victims were transported to hospitals and one of them, later identified as 32-year-old Dean Joseph Klein of Palmdale, died at the hospital, Sierra-Lidman said.
"The three additional victims have non life-threatening injuries," Sierra-Lindman said.
Two men, ages 21 and 30, were treated and released, as was a 23-year-old woman.
Source article: http://www.nbclosangeles.com/news/local/One-Dead-Three-Wounded-in-Gang-Related-Shooting-in-Palmdale-221117781.html
Photo credit: KABC