Gang member faces murder charges — again
KATIE LUCIA (Desert Dispatch) | August 29, 2012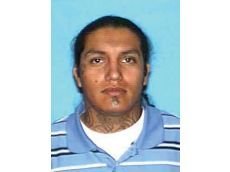 BARSTOW • A Barstow gang member will, again, face murder charges after a judge threw out his plea for giving false testimony in a murder trial against two partners-in-crime.
Tomas Quintana, 27, was scheduled to be sentenced to six years in prison Wednesday, but will now face trial for charges with a maximum sentence of 60 years to life in prison.
Quintana and two gang members were all charged with the 2009 murder of a fellow gang member until Quintana made a plea deal in October. Quintana agreed to testify against his cohorts in the murder trial in exchange for dropping his charge to voluntary manslaughter with a six year sentence.
Quintana was supposed to be the prosecution's key witness in the trial against Rolando Gamez, 35, and Claudio Jimenez, 34, who murdered fellow gang member Gilbert Chavez, 28, in May 2009. All were members of the Barstow-based gang Los Gents.
However, when Quintana testified at the trial, he recanted previous statements made to police — recorded on video and audio — saying he did not witness Jimenez shoot Chavez in the head nor did he see his death.
Deputy District Attorney Connie Lasky said she was disappointed, though not surprised at his change of story, since his testimony put him in danger of retaliation from the Mexican Mafia, a vicious prison gang believed to have ordered the hit on Chavez.
Read more at: http://www.desertdispatch.com/news/gang-13455-member-murder.html