Upcoming handball tournament a chance for rival groups to get along
Sara Jane Pohlman (Lodi News-Sentinel) | September 6, 2012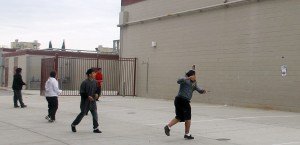 A simple game that was virtually unknown in Lodi a year ago has gained traction as a favored sport among teenagers.
Handball players can be found at lunchtime and after school at Lodi and Tokay high schools, and on the handball courts at Hutchins Street Square. All it takes is a small blue rubber ball, agile feet and strong hand-eye coordination.
Lodi city officials are counting on that enthusiasm to carry through to the first-ever handball tournament held in Lodi.
All high school and middle school students are invited to compete in a handball tournament on the last Saturday in September at Tokay High School.
Students will sign up first thing in the morning. They'll be organized into brackets, then warm up and take part in an instructional clinic. Then the tournament begins.
Players will receive a free lunch, and winners will get a T-shirt.
Read more at: http://www.lodinews.com/news/article_a153da4c-f830-11e1-8641-0019bb2963f4.html
Photo credit: Sara Jane Pohlman/Lodi News-Sentinel
Tags:
handball
,
Hutchins Street Square
,
Lodi
,
Point Break Adolescent Resources
,
Tokay High School
,
U.S. Handball Association