Ex-Mayor's Attorney 'Very Confident' Bell Corruption Case Will Be Dropped
CBS | September 8, 2011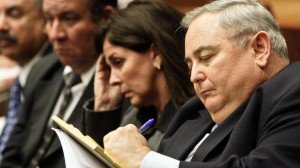 LOS ANGELES — The infamous "Bell 8? are back in court on public corruption charges in the hopes of setting a date to convince a judge to drop the case against them.
KNX 1070?s Ed Mertz reports there are signs of optimism coming from the legal team representing Oscar Hernandez, the former mayor of the city of Bell.
"We're very confident," said attorney Stanley Friedman.
The eight defendants and their attorneys filled a courtroom Thursday as the case resumed following a state Supreme Court ruling that requires prosecutors to show public officials were criminally negligent or knew they were breaking the law in public corruption cases.
Friedman is among those defense attorneys who claim prosecutors have not meet that burden of proof.
Read more at: http://losangeles.cbslocal.com/2011/09/08/ex-mayors-attorney-very-confident-bell-corruption-case-will-be-dropped/
Photo credit: Irfan Khan-Pool/Getty Images