LAPD officers wound suspect in Rampart area
Andrew Blankstein (Los Angeles Times) | September 8, 2011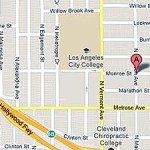 A man who was reportedly shooting at a car Thursday evening was shot and wounded by Los Angeles police, authorities said.
No officers were injured in the incident, which was reported about 7 p.m. near Madison Avenue and Monroe Street, said LAPD spokeswoman Norma Eisenman.
The incident unfolded when LAPD gang enforcement officers saw a man in his early 30s shooting at a car.
Read more at: http://latimesblogs.latimes.com/lanow/2011/09/lapd-officers-wound-suspect-in-rampart-area.html