Rapper dies after last week's shooting
Rapper dies after last week's shooting
tupac September 13, 1996
Web posted at: 8:50 p.m. EDT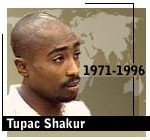 LAS VEGAS, Nevada (CNN) — Rap star Tupac Shakur died Friday from gunshot wounds suffered last weekend while he was riding in a car near the Las Vegas strip, according to a hospital spokeswoman.
The 25-year-old Shakur died Friday at the University Medical Center in Las Vegas, Nancy Collins said.
Doctors determined Shakur's cause of death as respiratory failure and cardiopulmonary arrest, Collins said. Shakur's mother was at his bedside when he died.
No arrests have been made in the drive-by shooting, which happened as Shakur was on his way to a party after the Mike Tyson-Bruce Seldon fight September 7.
Shakur was hit by four bullets as he rode in a car driven by the head of Death Row Records, Marion "Suge" Knight, who was slightly wounded.
It was the second time Shakur had been gunned down in less than two years. In November 1994, he was shot five times during an apparent robbery in the lobby of a Manhattan recording studio.
Arrested repeatedly in recent years, he was released last year on bail, pending appeal after serving eight months in a New York prison for sex abuse.
Known as 2Pac, he was one of the most successful — and scorned — "gangsta" rappers. Fans bought millions of his records; others denounced him and his lyrics for glorifying violence and drugs and degrading women.
Shakur was up-front about his troubled life in the 1995 release "Me Against The World," a multi-million-selling album that contained the ominously titled tracks, "If I Die 2Nite" and "Death Around The Corner."
"It ain't easy being me — will I see the penitentiary, or will I stay free?" Shakur rapped on the album, which produced the Grammy-nominated "Dear Mama" and standout singles "So Many Tears" and "Temptations."
The Las Vegas shooting occurred as Shakur's fourth solo album, "All Eyez on Me," remained on the charts, with some 5 million copies sold. The song "How Do You Want It — California Love" was a top 20 single on Billboard magazine's charts.
A fledgling actor, Shakur recently completed filming a role as a detective for the Orion picture "Gang Related." He appeared in "Above The Rim" in 1994, with Janet Jackson in John Singleton's 1993 release "Poetic Justice" and in the 1992 Earnest Dickerson film "Juice."