3 reputed gang members charged in wild Canyon Country-to-Downtown bank robbery pursuit
City News Service | September 14, 2012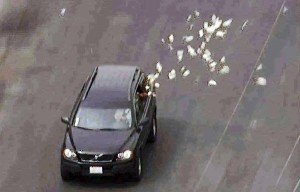 SAN FERNANDO — Criminal charges were filed today against three alleged gang members accused of robbing a Bank of America branch in Canyon Country and leading sheriff's deputies on a wild chase Wednesday during which stolen money was tossed from the windows of a stolen SUV in South Los Angeles.
Phillip Ely, 29, of Carson; Lavelle Lee Mosley, 22, of Los Angeles; and Terion Lamarr Collins, 25, described as a transient, are expected to be arraigned this afternoon in San Fernando Superior Court on four counts each of second-degree robbery and one count each of kidnapping to commit another crime, according to the District Attorney's Office.
Ely is also charged with evading an officer and unlawful driving or taking of a vehicle.
The criminal complaint also includes allegations the robbery and kidnapping were committed "for the benefit of, at the direction of, and in association with a criminal street gang," and that all three men personally used a handgun during those crimes.
The kidnapping charge involves one of the alleged victims in the bank.
A fourth man is still being sought.
The televised chase sparked a circus-like atmosphere in South Los Angeles as people ran into the streets in hopes of scooping up cash and crowded around deputies as two of the suspects were being arrested.
The chase began shortly after 10 a.m. Wednesday, when four men robbed the bank in the 19000 block of Soledad Canyon Road in Canyon Country. Deputies began pursuing the robbers, who were in a dark Volvo SUV that officials said had been stolen in the South Los Angeles area, starting a chase that initially led to the Sylmar area.
Read more at: http://www.mercurynews.com/california/ci_21545844/3-reputed-gang-members-charged-wild-canyon-country
Image credit: KTLA