Gang involvement suspected in Northridge shooting
Kelly Goff (Los Angeles Daily News) | September 17, 2013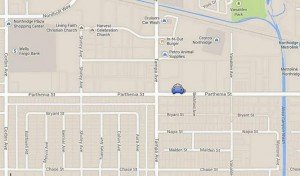 A woman was shot in the leg early Tuesday morning in Northridge, the victim of an apparent gang crime.
The woman was walking to work, according to police, when she was approached by two men on Parthenia Street, east of Tampa Avenue.
"They asked her where she was from and she said 'nowhere,' " said Lt. Aaron Ponce of the Los Angeles Police Department's Devonshire Division. He said the question is what leads police to believe the crime was gang related.
"That isn't something people usually ask someone walking down the street, but it is common gang terminology," he said, noting there has been other gang activity in the neighborhood.
Ponce said the woman, described only as a "young adult," made it across the street before she was struck by a bullet. She was hit once in the thigh after the suspects fired three rounds.
The victim was transported to a local hospital in stable condition. Her injuries are not believed to be life-threatening.
The woman's identity was not released, and the suspects were described only as Hispanic males. Police do not believe the victim knew the two men.
Source article: http://www.dailynews.com/general-news/20130917/gang-involvement-suspected-in-northridge-shooting