D.A.: One by one, officers piled on Thomas
ALEJANDRA MOLINA AND DENISSE SALAZAR (THE ORANGE COUNTY REGISTER) | September 23, 2011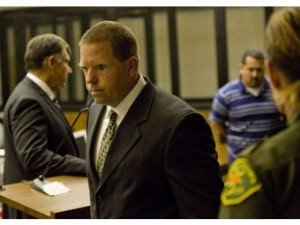 A team of six full-time Orange County district attorney's investigators and one supervising investigator were assigned to the Kelly Thomas case.
District Attorney Tony Rackauckas described the conduct of six Fullerton police officers involved in the fatal beating of the mentally ill transient at a packed news conference earlier this week.
Two of the six officers have been charged in connection with his death and all of the officers remain on paid administrative leave.
The death certificate lists the cause of death for Thomas as asphyxia caused by "mechanical chest compression with blunt cranial-facial injuries sustained during physical altercation with law enforcement."
The district attorney said Thomas died because of the weight of the officers on his chest, which made it impossible to breathe.
Photo credit: PAUL RODRIGUEZ / THE ORANGE COUNTY REGISTER