FBI sneaked cellphone into L.A. jail in deputy misconduct probe
Robert Faturechi (LA Times) | September 25, 2011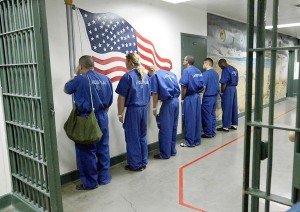 FBI agents sneaked a cellphone to an inmate inside the L.A. County jail as part of a probe into allegations of inmate beatings and other misconduct by deputies, a Times investigation has found.
The jails have been plagued with problems over the last decade, including inmate riots, killings, antiquated facilities, huge lawsuit settlements and even the formation by some deputies of a gang-like clique. Inmate accusations of beatings are common within the many facilities that make up the department's jail system, but most are unsubstantiated.
The new investigation caused a flap recently when Los Angeles County Sheriff's Department brass discovered that an inmate inside Men's Central Jail was an FBI informant equipped with a cellphone he was believed to be using to communicate with agents on the outside, according to the Times findings.
Read more at: http://latimesblogs.latimes.com/lanow/2011/09/fbi-sneaked-cellphone-into-la-jail-in-deputy-misconduct-probe.html
Photo credit: Mel Melcon / Los Angeles Times