George Zimmerman's wife: 'I have doubts' about his innocence
By Matt Pearce/LA Times
September 26, 2013, 10:52 a.m.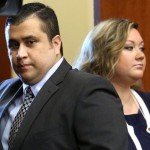 George Zimmerman's wife is raising questions about his innocence in the 2012 shooting of Trayvon Martin, as the couple's marriage continues to publicly go sour.
"I think anyone would doubt that innocence, because I don't know the person that I've been married to," Shellie Zimmerman told NBC's "Today" show on Thursday as her lawyer sat beside her. "I have doubts," she said, yet added, "I also believe the evidence" that led to his acquittal.
The Zimmerman saga took another turn this month when the couple got into a marital spat at George Zimmerman's house in Lake Mary, Fla., a few days after Shellie Zimmerman filed for divorce. She had come to pick up some things, and he reportedly got into a fight with her father.
George Zimmerman told police that his wife had hit him with her iPad; Shellie Zimmerman told the cops that her husband had put his hand on a gun beneath his shirt and said, "Step closer."
Police investigated, but ultimately neither side pressed charges.
"In hindsight, I should have [pressed charges], and I really regret that," Shellie Zimmerman told NBC's Matt Lauer. "But I'm on probation, and the officers made it very clear that day that if I pressed charges, we were all going to go to jail, and I would have been the only one to stay there."
Shellie Zimmerman is on probation for lying to a Florida judge about the couple's finances.
The recent argument at the house, however, led Shellie Zimmerman to reevaluate the man she married, she told Lauer. "I saw a look in his eyes that I've never seen before that day," she said.
She hasn't had a chance to see it again: She and her lawyer, Kelly Sims, said they haven't been able to serve George Zimmerman with divorce papers because they don't know where he is.
Read more here: http://www.latimes.com/nation/nationnow/la-na-nn-shellie-zimmerman-20130926,0,4077169.story