Changing the world, one game at a time
Brian Hedger (Chicago Tribune) | September 29, 2010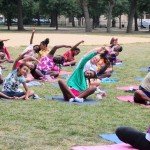 Melanie Thornton was a chubby, awkward 10-year-old with low self-esteem. Then she joined a sports-based community organization that gave her a boost of confidence when she needed it most.
That organization was the Sporting Chance Foundation, now called Girls in the Game.
"I was never a real talkative person, but at (Girls in the Game) events, you always seem to find a girl who has the same problems or issues that you do — even if they're a different ethnicity," said Thornton, 22.
That added self-confidence is crucial to a young girl's healthy emotional and physical development, said Amy Skeen, Girls in the Game's executive director. She said there is a staggering drop in self-esteem when girls reach pre-adolescence. "If you can get girls involved in activities where they see, 'Wow, I am strong. I am fast. I can dribble a ball. I can work as a teammate and make good decisions,' you're helping them get through that drop."
That's exactly the sort of sports-based societal impact that inspired Nick Keller to start Beyond Sport, a London-based international non-profit organization whose aim is to effect positive social change through sports. At its annual summit, held Wednesday and Thursday in Chicago, organizers are connecting people from the sports, political and corporate worlds with community-based organizations to discuss how that can happen.
"(The goal) is to get that intersection of sport, business and philanthropy that we believe will have a significant impact on communities around the world," said Keller.
The organization, which held its first summit in London last year, will also bestow financial awards to eight local sports-based programs. Five of those programs are finalists to win a $50,000 United Airlines Chicago Impact Award. There will also be six community awards in which winners receive $15,000 and access to free business consulting by Price Waterhouse Coopers.
"What we're interested in is where sport is used for education, conflict resolution or to essentially connect with people in a way that other things do not," said Keller. He started Beyond Sport in 2008 after working in the international corporate sports industry for almost 20 years. He also played rugby in his youth and said it taught him the necessary values to succeed.
"In terms of engaging youth, there is nothing better than sports to connect with them," said Keller. "It allows people to find a commonality. Those that are socially excluded can suddenly feel included as part of something."
Full article at: http://www.chicagotribune.com/news/local/chicago/ct-x-c-beyond-sports-summit-1001-20100929,0,4015899.story
Image source: Chicago Tribune