Prosecutors: High-ranking gang member convicted for assault on fellow inmate
Jessica M. Pasko (Santa Cruz Sentinel) | October 01, 2012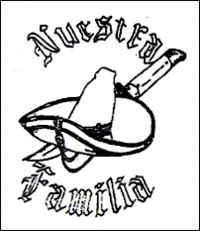 SANTA CRUZ — A man who prosecutors say is a high-ranking gang member in the county was convicted Monday of three felonies: participation in a gang, possession of a weapon in jail and committing an assault in jail.
Jesse Andrew Ybarra, 32, was in County Jail on an alleged parole violation when he stabbed another inmate with a homemade knife on Aug. 8, 2011, prosecutor Alex Byers said.
Ybarra is a member of the Nuestra Familia, the highest-ranking Norteño gang, which is run largely out of the state prison system, Byers said. Ybarra has a lengthy criminal history that includes a number of previous prison stints.
After a trial that lasted about a week, jurors returned their verdict late Monday morning. They also found true the special allegations that Ybarra stabbed the other inmate in furtherance of a criminal street gang. They did not, however, find the allegation that the assault caused great bodily injury to be true.
Read more at: http://www.mercurynews.com/breaking-news/ci_21674817/prosecutors-high-ranking-gang-member-convicted-assault-fellow