Hate crimes in L.A. County drop to second-lowest level in 23 years
Abby Sewell (Los Angeles Times) | October 2, 2013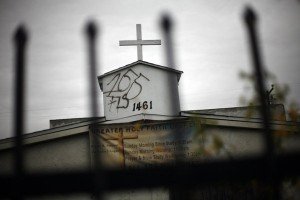 Hate crimes in Los Angeles County hit their second-lowest level in 23 years last year, but the most violent of those rose from 2011, according to a report released Wednesday by the Los Angeles County Commission on Human Relations.
There were 462 hate crimes reported in the county in 2012, a 6% decrease from the previous year.
Although cases of vandalism — which make up about one-third of reported hate crimes — and simple assault decreased, the number of aggravated assaults increased from 63 in 2011 to 88 last year. But the report noted that the incidents had decreased 33% the previous year.
The county saw three cases of attempted murder involving seven victims and one case each of arson, attempted rape and sexual assault.
There was also an increase in hate crimes between blacks and Latinos from 2011 to 2012, and a greater percentage of those crimes were violent. In particular, human relations commission Executive Director Robin Toma said he was concerned about the continuing issue of attacks on African Americans by Latino gang members.
The commission launched an initiative in 2007 focused on preventing racialized gang violence. Toma credited local and federal law enforcement agencies with cracking down on racially motivated hate crimes by gangs — including the indictment in February of two Latino gang members in Compton who were accused of a racially motivated attack on a black family.
The vast majority of hate crimes were committed against African Americans, lesbians and gay men, Jews and Latinos, the report said.
Read more at: http://www.latimes.com/local/la-me-hate-20131003,0,4795170.story
Photo credit: Bob Chamberlin / Los Angeles Times / January 25, 2013