SF Gang Evicted From Troubled Tenderloin Apartment Building
KCBS | October 3, 2012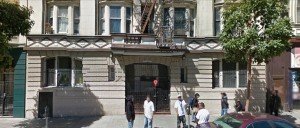 SAN FRANCISCO — A local street gang is losing its headquarters in a Tenderloin apartment building where they have terrorized residents, as part of the legal settlement between the with the landlord and the city, according to officials on Tuesday.
City Attorney Dennis Herrera said that the violent drug dealing gang variously known as the Cambodian Crips, 245 or the Thug Lords, had turned the apartment building at 245 Leavenworth St. into a virtual prison for tenants who already had to endure pest infestations, mold, lack of hot water, dumped garbage and other code violations.
Herrera filed a lawsuit with the landlord, John Wai last October. Instead of settling the matter in court where Wai risked more civil penalties, he took action by correcting the property's numerous code violations. Enhancing security was also part of the settlement and efforts to remove the gang were successful.
Read more at: http://sanfrancisco.cbslocal.com/2012/10/03/sf-gang-evicted-from-troubled-tenderloin-apartment-building/