Man's life sentence overturned 17 years later
KABC | October 04, 2011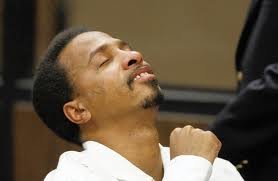 LOS ANGELES — A man whose murder conviction was overturned after 17 years behind bars was released Tuesday from a Los Angeles jail.
With screams and cheers from family members, 37-year-old Obie Anthony walked out of the Twin Towers jail about 7:40 p.m.
Student members of the Project for the Innocent team at Loyola Law School and the Northern California Innocence Project at Santa Clara University School of Law worked on Anthony's case for 3 1/2 years to get him out.
Anthony was 19 years old when he was convicted of fatally shooting a man outside a South Los Angeles brothel in a 1995 trial and sentenced to life in prison without the possibility of parole. But last Friday, Los Angeles Superior Court Judge Kelvin D. Filer overturned Anthony's conviction after determining that the prosecution's key witness, a pimp, lied to the jury.
Anthony said he wasn't at the scene and steadfastly maintained his innocence.
During his incarceration, Anthony said he read self-help books and kept his faith in God and the truth.
Read more at: http://abclocal.go.com/kabc/story?section=news/local/los_angeles&id=8379411&cmp=twi-kabc-article-8379411