Not your average music fans
Andrew Donaldson (The Western Front) | October 5, 2010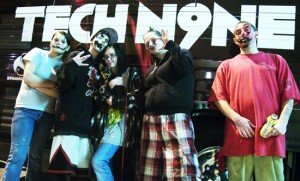 "WHOOP WHOOOOP!" shouts a woman in face paint named Libby Lewis. She is better known as Bootie-Lette and is a self-proclaimed Juggalette. Meanwhile, a line of people bends around the block waiting to enter the Tech N9ne concert Thursday, Sept. 30 at The Wild Buffalo House of Music.  The crowd, largely composed of people who consider themselves Juggalos, responds with a barrage of, "WHOOP WHOOOP!"
Juggalos are the fans of the Insane Clown Posse, a controversial rap group known for wearing face paint and using ultra-violent lyrics in their songs.
Juggalos are also very loyal to groups associated with the Insane Clown Posse, like Tech N9ne, Coolio and Vanilla Ice.
Juggalos have been in the spotlight after Steven Bauder, a 25-year-old Juggalo, was charged with murder in a case where prosecutors are trying to lengthen his sentence.   Prosecutors claim he committed murder as a member of a street gang, according to a Seattle Times article.
Billy Edge, a 25-year-old Juggalo from Bellingham, said Juggalos are not to be confused with a gang.
"Juggalos aren't a gang," Edge said. "It's records, it's music, it's a way of life that explains how a lot of people grew up."
Dirk Geier, a Juggalo from Mount Vernon, explained how being a Juggalo involves caring for your peers.
"Being a Juggalo is basically being a family," Geier said. "If one of my Juggalo homies said, 'Hey man, I need your help' I'd be there in a heart beat, just like they would be for me."
Juggalos and Juggalettes — the female counterpart known for following Insane Clown Posse — have been cited by law enforcement officials for offenses ranging from graffiti to murder, according to a Sept. 15 Standard-Examiner article.
Chris Lamb, manager of Avalon Music, which occasionally sells an Insane Clown Posse album, said Juggalos negatively affect the perception of downtown Bellingham because they hang out all day, everyday on street corners.
"If you want to see prime examples of child neglect, juvenile delinquency, prostitution and crack deals then look no further," Lamb said. "No one likes them but them and that's the way they like it."
Chris Johnson, a 28-year-old who has been a juggalo for 13 years, said the culture is misunderstood by mainstream America.
"One of the biggest misunderstandings is we are a gang," Johnson said. "The people [Insane Clown Posse] is targeting in their music is the crooked cops, judges, child molesters, women beaters, child beaters… when [Insane Clown Posse] refers to the oppressor that's who they are talking about."
Full article at: http://westernfrontonline.net/features/15-features/12583-not-your-average-music-fans
Photo: Mark Katsikapes, The Western Front Online