El Monte boy, 13, arrested for taking two loaded guns to school
by Ruben Vives (LA Now/LA Times)
October 10, 2009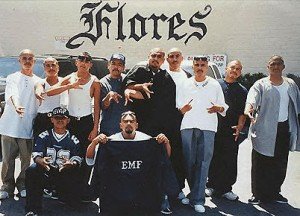 El Monte police arrested a 13-year-old boy after he took two loaded handguns to Durfee Middle School because he said he wanted to defend himself against local gang members.
The child, whose name was not released because of his age, was arrested Thursday morning on suspicion of possession of firearms on a school campus.
"We received a radio call of a 13-year-old individual on a school campus who was in possession of two guns," said Lt. Dan Burlingham of the El Monte Police Department. "We found him, detained him; he was interviewed and released to his parents."
The boy told police that he had brought the 9-mm handgun and the 0.380 semi-automatic to defend himself from El Monte Flores gang members who had threatened and harassed him outside of school because he is black, Burlingham said.
The Latino gang is among the largest gangs in El Monte, Burlingham said.
"He's not in a gang or has no association of any kind," he said of the boy. "He was protecting himself. It's a believable story if you talk to the individual."
El Monte Police Lt. Robert Roach said the boy brought the guns from home and that they belonged to his father.