Man sentenced to life in prison in gang shooting of baby
By Jill Cowan/La Times
October 10, 2013, 10:26 p.m.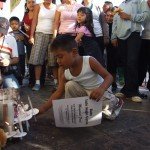 He didn't fire the bullet that struck 3-week-old Luis Angel Garcia in the heart as he lay asleep in his stroller in a bustling Los Angeles shopping district.
But Juvenal Cardenas Mejia was a longtime gang "tax collector" who helped set up the 2007 shooting that claimed the baby's life. On Thursday, he was sentenced to life in prison without the possibility of parole for his part.
Mejia, 40, was the last of seven defendants convicted in the shooting near MacArthur Park.
"It's been a long time," Deputy Dist. Atty. Victor Avila said this week. "Now, finally, the last defendant that participated in this murder is being held accountable."
The shooting sparked outrage in the community and even drew the wrath of the Mexican Mafia, a prison gang that allegedly put out a death warrant for those involved.
Mejia was convicted in August of first-degree murder with special circumstances because the slaying was deemed to be gang-related. A jury also convicted him of attempted murder, extortion and conspiracy, among other charges.
Luis' mother was also wounded in the incident, as was a vendor who had allegedly been targeted for refusing to pay $50 in "rent" for operating in the gang's territory.
Mejia, prosecutors said, had been working for the 18th Street Gang for more than two years, extorting street vendors.
"The shooter didn't know which vendor wasn't paying," Avila said. "Mejia's role was to walk up, point out the vendor to be shot and one of the bullets ended up hitting the baby in the chest, killing him."
An autopsy photo, Avila said, is the only known picture of the boy.
Over the course of several years after the shooting, three defendants were convicted together and sentenced to life in prison without parole, while another three struck plea bargains in exchange for their testimony.
Mejia was the last to face prosecution, Avila said, because he fled to Mexico. He was arrested in September 2011 in Mexico and extradited the next year.
"As we've shown with Mejia's capture, the long arm of the law reaches across borders to prosecute fugitives," then-Dist. Atty. Steve Cooley said in a statement at the time. "It's my hope that the slain child's family finds comfort in the knowledge that the Los Angeles district attorney's office will not rest in its pursuit of justice."
None of the victims or their family members spoke at the sentencing in Los Angeles County Superior Court, Avila said, though Mejia briefly claimed his innocence before a judge cut him off.
Mejia's attorney, Antonio Bestard, said the case was "very difficult."
"He got what all the others really got," Bestard said.