6th Suspect Arrested In 2009 Gang-Related Stabbing Death
CBS Local News
October 13, 2014 7:10 PM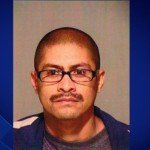 OXNARD (CBSLA.com) — Officers Monday announced the arrest of a sixth suspect accused in a gang-related 2009 stabbing death.
According to the Oxnard Police Department, Francisco Martinez Barrera of Oxnard was arrested Sunday while in custody at the Ventura County Sheriff's Department.
He was facing unrelated firearm charges from an arrest that occurred in September while attempting to reenter the U.S. at a border crossing south of San Diego, officers said.
Authorities said around 8 p.m. Jan. 17, 2009, officers responded to a call of a fight with shots fired in the 2700 block of El Dorado Avenue.
Once on scene, they located two stabbing victims who had sustained injuries at the scene.
Officers said Alfredo Vegas, 28, underwent emergency surgery and died the next morning.
According to police, a third victim had left the scene before officers arrived. He was contacted at St. John's Hospital, where he received treatment.
In June 2013, a preliminary investigation resulted in criminal indictments against four Lemonwood Chiques gang members – Jonathan Gallegos, Alexis Ramirez, Jorge Cervantes and Guillermo Galvan – each charged with murder and committing murder for the benefit of a street gang, officials said.
On Feb. 18, 2014, officers said they arrested a fifth suspect, Alejandro Jimenez, in his involvement.
Authorities said an investigation revealed Barrera fled to Mexico in April 2013 during the time when officers made initial arrests in the cold case.
The six men remain in custody and are awaiting trial. Barrera is being held on $1.5 million, police said.