Texas Executed an Innocent Man
New Yorker: Texas Executed an Innocent Man
By Matt Kelley
Published Oct. 14, 2009 @ 06:51AM PT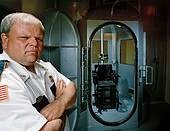 A report published today in the New Yorker finds that Cameron Todd Willingham, who was executed in 2004 in Texas for setting a fire that killed his three daughters, was innocent. This is incredibly sad news, but it also marks the most conclusive evidence yet that an innocent person has been put to death in the United States. We've known for years that the arson science used to convict Willingham was flat-out wrong. Today's New Yorker report goes further: it dismantles the case that sent Willingham to his death, point-by-point, proving that every shred of evidence used against him was false.
Innocence Project Co-Director Barry Scheck wrote in the Huffington Post: "There can no longer be any doubt that an innocent person has been executed. The question now turns to how we can stop it from happening again."
And the New York Times adds, in an editorial today: "The Willingham investigation, which is continuing, is further evidence that the criminal justice system is far too flawed to justify imposing a death penalty."
I strongly, strongly urge you to read David Grann's incredible New Yorker piece in its entirety. I can't imagine that you can leave the story with trust in our system of capital punishment.
(Disclaimer: We're reporting on this story today at the Innocence Project, where I work when I'm not blogging here at change.org. The Innocence Project has been involved in investigations of the Willingham case, but views expressed here are mine alone.)