Supreme Court refuses to hear Brown's appeal on prison crowding
Paige St. John (Los Angeles Times) | October 15, 2013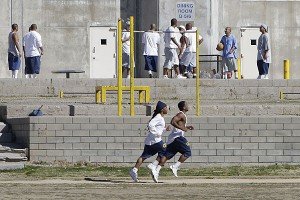 SACRAMENTO — The U.S. Supreme Court on Tuesday refused to hear Gov. Jerry Brown's appeal of an order to reduce prison crowding, further narrowing the governor's options in his quest to end what he characterizes as an arbitrary cap on the inmate population.
The cap was ordered by three federal judges in California, and Brown had asked the high court to remove it. Having lost that bid, he will continue to pursue a request to the lower court for more time to comply, according to a California Department of Corrections and Rehabilitation spokeswoman.
The Supreme Court justices said they found no grounds to take up the population limit, dispatching the governor's request in a single sentence: "The appeal is dismissed for want of jurisdiction."
Brown had no immediate response to the decision. A spokeswoman in his corrections department, Deborah Hoffman, issued a statement saying that the administration was "disappointed."
While awaiting the Supreme Court's decision, the governor recently asked the three-judge panel to give him three years to lower inmate numbers for the long term by, for example, expanding rehabilitation programs that could help keep offenders from returning to prison once they leave.
The court gave the state an extra month instead, until Jan. 27, and ordered officials to conduct settlement talks with lawyers for the inmates whose lawsuits led to the population cap. A report on those mediation efforts is due next week.
Brown and lawmakers approved funding in September for the rehabilitation programs, and the governor has touted "historic reforms" that have already been made — such as a new law requiring reconsideration of some sentences — that need time to work.
Read more at: http://www.latimes.com/local/la-me-ff-prisons-supreme-court-20131016,0,6614598.story
Photo credit: Rich Pedroncelli, Associated Press