Hells Angel guilty of making criminal threats
Associated Press | October 19, 2012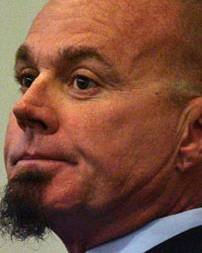 RIVERSIDE, Calif.—A Southern California builder is facing five years in prison for threatening to unleash fellow Hells Angeles on unhappy subcontractors.
A Riverside County jury on Thursday convicted 49-year-old James Bradley of two counts each of making criminal threats and committing a felony as a member of a criminal street gang.
He was jailed pending sentencing on Nov. 9.
A subcontractor told Murrieta police in 2010 that Bradley threatened to have 150 Hells Angels come after him because of a dispute over failure to pay for cabinet installations.
Two other subcontractors made similar allegations against the J.A. Bradley Construction owner, who lives in Temecula.
The Riverside Press-Enterprise says much of the trial focused on the Hells Angels.
Expert witnesses testified that the club is a criminal street gang.
Source article: http://www.dailynews.com/ci_21810556/hells-angel-guilty-making-criminal-threats