Should Growing Up in Compton Be Considered a Disability?
By Avi Asher-Schapiro | Vice.com
October 20, 2015 | 6:24 pm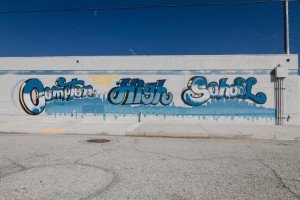 Virgil started feeling unsafe sometime around 4th grade. That's when he remembers his mother telling him and his twin brother, Philip, to stay inside after school. The family had recently moved from Atlanta to Los Angeles, and remaining indoors, their mother told them, was the best way to avoid getting hit by a stray bullet from one of the gun battles that regularly erupted outside their apartment in Compton, California.
Six years later, Virgil and Philip — not the boys' real names — say they've lost track of how many times they've had to run from gunfire, dodge gangs, and contend with overzealous police. Just last year, Phillip witnessed one of his closest friends get shot in the head. Between the two of them, the 10th graders have already lived through more violence than many soldiers. And they've been shuffled through all three high schools in the Compton Unified School District (CUSD) in the past year — Virgil for fighting and insubordination, Phillip for chronically bad grades.
The brothers are now two of the plaintiffs in an unprecedented lawsuit that seeks to force schools to address trauma students face and the effects it has on their ability to learn. The suit, filed on behalf of five current students and three teachers at CUSD, could revolutionize the way children are taught in public schools.
"I've been through a whole lot here in Compton," Virgil says. "And some of the hardest stuff has been in the school."
Read more here: https://news.vice.com/article/should-growing-up-in-compton-be-considered-a-disability