Puente 13 gang members arrested in massive Southland drug sweep
James Figueroa (sgvtribune.com)
10/21/2010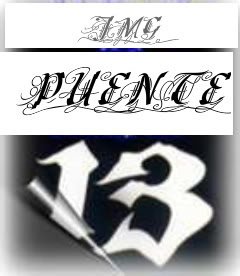 A multi-agency task force targeted drug suppliers for Puente 13 and other street gangs as part of a mblankive Thursday morning sweep in Los Angeles and Riverside counties.
Authorities arrested 41 suspects in the pre-dawn raids involving more than 800 officers and are still seeking 21 others on federal indictments for drug and weapons trafficking in the sweep, called Operation Red Rein, according to the U.S. Attorney's Office.
The sweep included four locations in the La Puente area, said sheriff's Lt. Pete Cacheiro, the city's chief of police.
The arrests were the culmination of a three-year investigation that followed a 2007 operation in Wilmington. Thursday's operation was again centered in the harbor community, and is expected to take hundreds of thousands of dollars worth of illegal drugs off the streets, officials said at a news conference at the Los Angeles Police Department's Harbor Division station.
U.S. Immigration and Customs Enforcement and the Bureau of Alcohol, Tobacco, Firearms and Explosives also helped lead the investigation.
"What this shows is that law enforcement at all levels is committed to continuing the effort to dismantle these networks," said Claude Arnold, special agent in charge of ICE's Homeland Security Investigations Unit. "We're here to stay."
The grand jury indictment against the Puente 13 gang centered on Marcos Gallardo, an alleged ringleader of the gang's drug trafficking network.
Read More: Visit Here