Unsloved homicide case of upcoming musician
By Stefani Camille
WWW.Streetgangs.com
October 21, 2014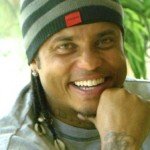 I always click on the Homicide Report for the La Times. I came across this guy Tryee Rowe, a 39 year old musician who lived just near the 1900 block of West 77th Street where he was shot to death. Tyree was killed 2 years ago, while sitting in his car.
Tyree was a musician, not famous, yet but he was rubbing shoulders with a known artist when his life was cut short. Tyree collaborated with Rapper E40 on one of his songs called 'Street Dreams". He played the guitar and he said in this song "You know I can't stop plucking them strings". Rowe's sister, Beverly Rowe said in an interview with the Times that music was her brothers' first love.
There aren't any witnesses to provide any leads in the case which has stalled the case. LAPD hopes that renewing a $50,000 reward for any information in the case would help get some sort of information or lead towards solving the case.
LAPD Det. Bertha Durazo is investigating the case and said "Sometimes it takes a reward for people to come forward and agree to help,"
Anyone with information can call the Criminal Gang Homicide Division at (213) 485-4341. Those who wish to remain anonymous can call Crime Stoppers at (800) 222-8477.