Radio show 'Gang Talk' takes on violence in South L.A.
La Times Homicide Report
Posted Oct. 24, 2014, 5 a.m.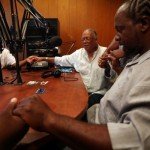 In the living room of her South L.A. home, 68-year-old Lita Herron pointed to a bullet hole in the stained-glass window.
Tissue was stuffed into the opening.
Herron still has the bullet. "I used to carry it around in my pocket," she said. "It let me know that nobody's immune."
Herron has watched her children lose their friends to violence. She's witnessed shootings — at a funeral and in her Vermont Square neighborhood. She's held a fatally wounded man in her arms.
After being out on the streets of South L.A. for years as an activist, Herron's trying a different approach in hopes of making things better: The grandmother of six drives every Thursday evening to a wood-paneled radio station in Inglewood, sits down in front of a microphone and starts talking.
"I'm a little upset because it's been a terrible holiday," she said after a string of shootings Labor Day weekend that left five dead.
"You know when you pull that trigger on that other man, you pull that trigger on yourself too," she says in a voice that carries the cadence of a preacher mixed with the comfort of a mother. "It's just a matter of time before someone catches you."
Called "Gang Talk," her radio show was born from the violence in the streets. Herron and Skipp Townsend, a gang intervention worker, host frank discussions with former gang members, young people in the community, men and women who have lost family members to violence, and those working to make a difference in South L.A.
Read more here: http://homicide.latimes.com/post/radio-show-gang-talk-takes-violence-south-l/