14-year-old arrested after alleged threat to shoot up Beaumont High School
ABC7News
Thursday, October 25, 2018 04:40PM
BEAUMONT, Calif. —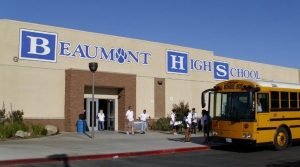 A 14-year-old boy is in custody for allegedly threatening to shoot up Beaumont High School.
Police say they were alerted after a student received a cryptic message from the suspect Tuesday.
He allegedly warned the student to run and hide when the fire alarm went off, adding that school exits would be blocked.
Read more here: https://abc7.com/teen-arrested-after-alleged-threat-to-shoot-up-beaumont-high-school/4556306/