Broadway Crips Gangster Convicted of Narcotics Offenses and Implicated in Two Murders Sentenced to 35 Years in Federal Prison
Dept of Justice | Thursday, October 25, 2018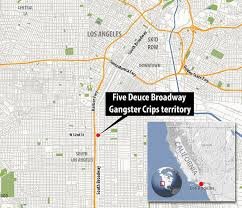 LOS ANGELES – A prominent member of the Five Deuce Broadway Gangster Crips (BGC) – who was found guilty by a jury last year of three counts of distribution of crack cocaine, which included him selling crack cocaine near schools – has been sentenced to 35 years in federal prison.
Marquis Shaw, also known as "Tiny Looney," 43, of South Los Angeles, was sentenced Wednesday afternoon by United States District Judge S. James Otero after a nearly three-hour sentencing hearing.
Following a four-week jury trial in March, Shaw was convicted of three drug trafficking offenses. Shaw had previously been convicted of felony narcotics offenses in two prior cases, as well as voluntary manslaughter, assault with a firearm, assault with a deadly weapon, and being a felon in possession of a firearm.
Read more here: https://www.justice.gov/usao-cdca/pr/broadway-crips-gangster-convicted-narcotics-offenses-and-implicated-two-murders