Gang members suspected in Fort Worth slaying
Deanna Boyd
Oct. 28, 2010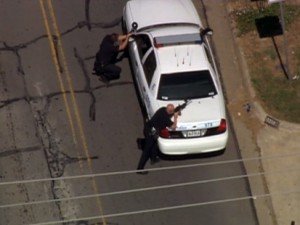 FORT WORTH — When a Fort Worth mother told some suspected gang members that had jumped her 15-year-old son Wednesday evening that she was calling the police, one of the youths threatened to "shoot this place" and "run you out of here."
Several hours later, police say gunmen fired shots at the woman's residence, kil#i*gg a 20-year-old friend of another of the woman's sons.
Officers responding to the shooting at the Village Creek Townhomes in the 2800 block of Briery Street shortly after midnight Thursday found Justin Austin dead inside the doorway of a residence with at least three gunshot wounds to the head, according to Sgt. Chad Mahaffey, a police spokesman.
The shooters had fled on foot.
Police suspect that the shooting may have stemmed from the earlier altercation involving the woman's 15-year-old son.
According to that police report, the boy was heading to a nearby park at about 6 p.m. Wednesday when he was jumped by approximately three juveniles, causing bruising and swelling to his face.
While the boy was reluctant to give officers information, his mother told police the youths belonged to a gang, according to the report.
Mahaffey said the mother had confronted the boys who had fought with her son and told them that she would call the police. One of the boys, according to the police report the woman filed, threatened that he "will shoot this place and will run you out of here."
Read More: Visit Here