29 members of 'violent' Insane MOB gang jailed in sweep
Susan Jacobson (Orlando Sentinel)
October 29, 2010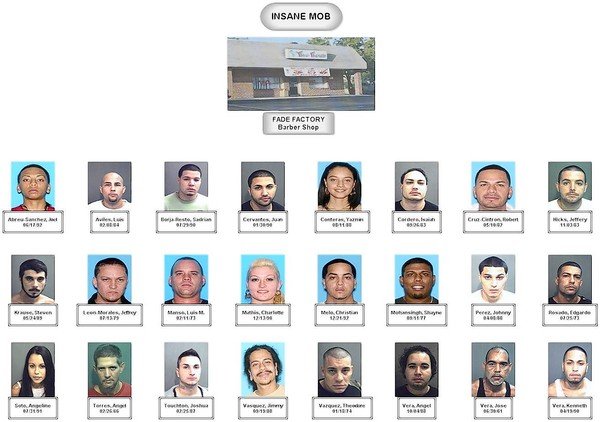 Orange County investigators said Thursday they have jailed more than two dozen members of a gang called Insane MOB, a group they blame for killings, arson, drug-dealing, a failed murder-for-hire plot, gun sales and spraying a school bus with bullets.
The gang, which was affiliated with an alliance of Chicago gangs called "Folk Nation," operated out of Fade Factory barbershop on Hoffner Avenue near Conway Road, investigators said. Fade Factory owner Theodore Vazquez is among those who have been arrested, said sheriff's Lt. Victor Payne, who heads the sheriff's gang unit.
Payne said the arrests have broken up Insane MOB, which he described as the "most violent gang" he has encountered. Members were so feared that community residents have been reluctant to cooperate with investigators, he said.
The group was bold, with some members posing with guns openly on Facebook, Sheriff Jerry Demings said. At one point, gang members hit a school bus during a drive-by shooting, apparently by accident, Payne said. No children were on board.
Read More: Visit Here